How to Style Your Curly Hair…like a Boss!
Pro Curly Girl Curly Lily : Popular summer hairstyles
This is a question we get A LOT! "How should I style my curly hair?!" Since it's a common concern, here are some examples of how you can style your curls with confidence!
Whether you have loose waves or tight coils, we hope you will find the process of creating a beautiful, curly hairstyle that you'll love helpful.
So get ready to turn heads with these stunning and easy-to-achieve curly hairstyles that will have you feeling confident and beautiful all day long!
Satin Scarf with curly hair – This is great look especially for the summer!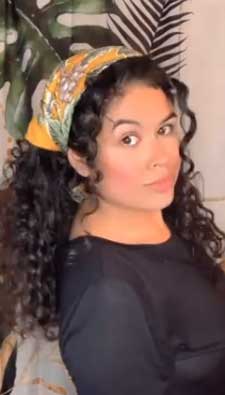 Choose a satin scarf that matches your outfit or complements your hair color.
Fold the scarf in half diagonally to create a triangle shape.
Use a wide-tooth comb or your fingers to gently fluff out your curls, creating volume and definition.
Finish off your look with a spritz of hairspray to keep your curls in place all day long.
In a few minutes you can easily create a stylish and functional summer hairstyle using a satin scarf that will keep your curls looking great and feeling healthy.
2. 90's hair style! – "I Totally loved it and it's super easy to do!"
This look took about 10 seconds and I was ready to go.
Place the headband over your head and position it on your forehead, just above your eyebrows.
Pull your hair back and tuck it behind the headband.
You can either leave your hair loose or tie it in a ponytail or bun at the nape of your neck.
You can also experiment with different types of headbands, such as scrunchies or bandanas, to create a unique look.
3. Hair Accessories are perfect for curly hair!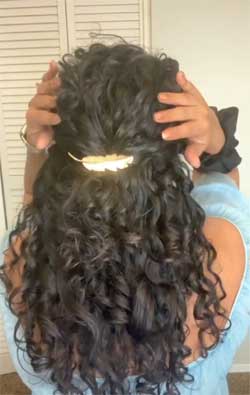 Just grab of few side curls and twist
Then use your favorite hair accessory
That's it!
As a curly girl, I know firsthand the joys and frustrations that come with managing this unique hair type. That's why I'm excited to share some of my favorite tips and tricks for styling curly hair in this article (Thanks, Curly Lily).
So whether you're a long-time curly hair veteran or just starting to embrace your natural texture, I hope this article inspires you to experiment with different styles and find the looks that make you feel confident and beautiful. Remember, your curls are a part of what makes you uniquely you, and that's something to be celebrated.
Also, if all else fails, there's always the trusty messy bun. Hahaha!